Creative Outlier Gold Review – Cheap & Good?
This is not a sponsored review. theAARONLOY// is reader-supported. When you buy through links on our site we may earn an affiliate commission. Full disclaimer here.
My latest pair of Bluetooth earphones were the Beyerdynamic Byron BTs. It sounds and is priced decently. But, I had to send it in for repairs twice, because both times because it refused to be charged. When I accidentally pulled out the wires from the left earpiece 4 days after the last repair, I figured, what the heck, might as well try something new.
That's when I saw an offer for the Creative Outlier Gold.
Creative's speakers and sound cards are better than world-class, but they've always made crappy earphones and media players, which made me hesitant. In the end, the offer was pretty good, and I've always wanted to try a 'truly-wireless' earphone, and, support local right, so I thought, why not.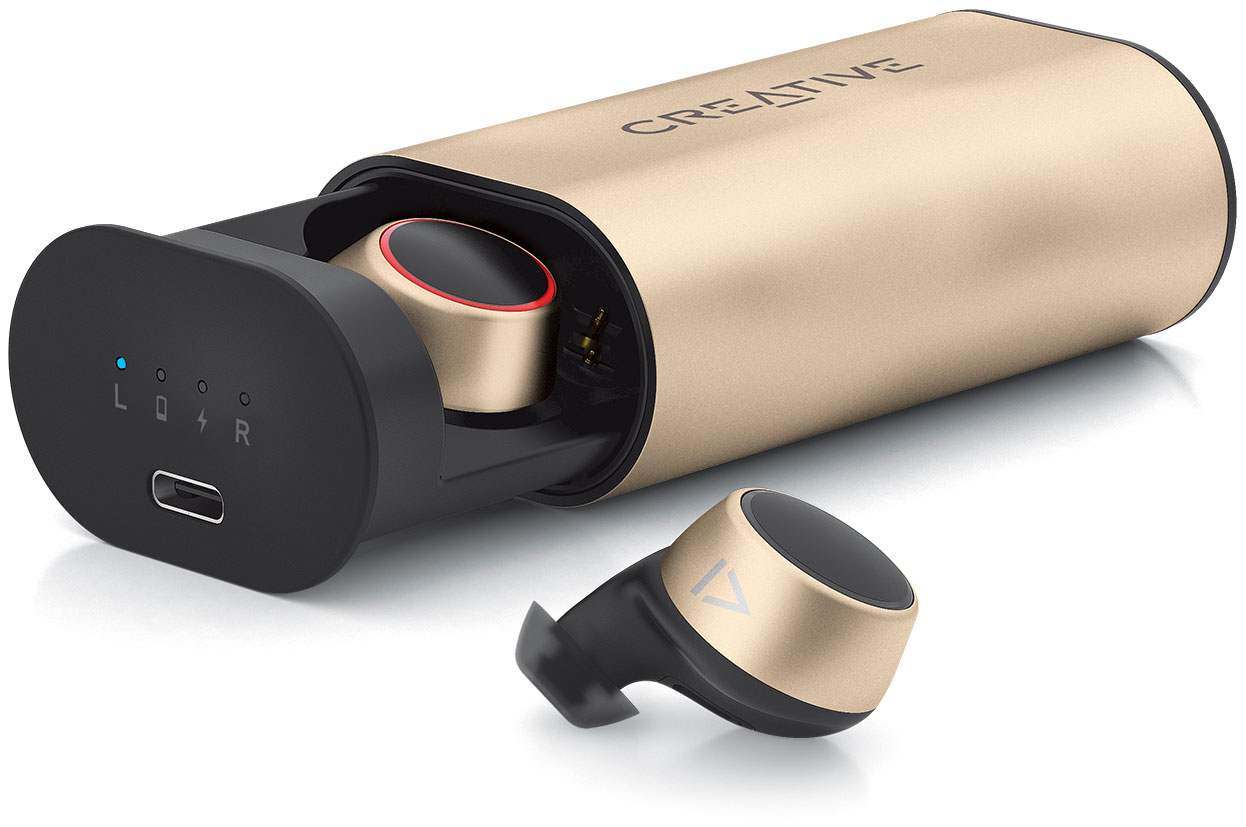 Difference Between Creative Outlier Air and Outlier Gold
As far as I can tell, the differences are colour, Super X-Fi, and Battery Life.
The Outlier Air is all black with shorter battery life and has no Super X-Fi capability. The Outlier Gold is 'Champagne Gold' with black highlighters, has Super X-Fi, and is rated to last about 30% longer. Also, from the reviews I've read elsewhere, it seems like its bass has also been boosted a little.
Design / Packaging
The packaging is pretty standard for electronics, nothing to scream about. And the design.. is actually quite ok. The earbuds manage to look sleek even though it's actually quite large, and the case is simple and unassuming.
Build Quality
Eh. It's ok. It's plastic and feels a little cheap. Also, the 'premium' metal case, looks like it came from one of the millions of cheap Chinese power packs with an aluminium body. What matters is that it's functional and seems well put-together, so no real complaints here.
Ergonomics
I have 2 issues with it.
First, the earbuds are… too smooth? It'll stick in my ear just fine, but 10% of the time, I find that it wants to slip out. Wiping it tends to make the problem go away though. Probably the natural oils on our skin making the surface a little too smooth at times. Also, their design doesn't seem to allow the use of 3rd party tips, which is unfortunate.
Second, the position of the control button is… stupid silly.
It's very stiff. Which is fine. The real problem is that they made the large face of the Outlier Gold the button. Which means, to use it, while attached, you have to press very hard into your ear. Basically, it feels like you're trying to force an object into a hole that's too small for it. In a way that's not pleasurable for the hole.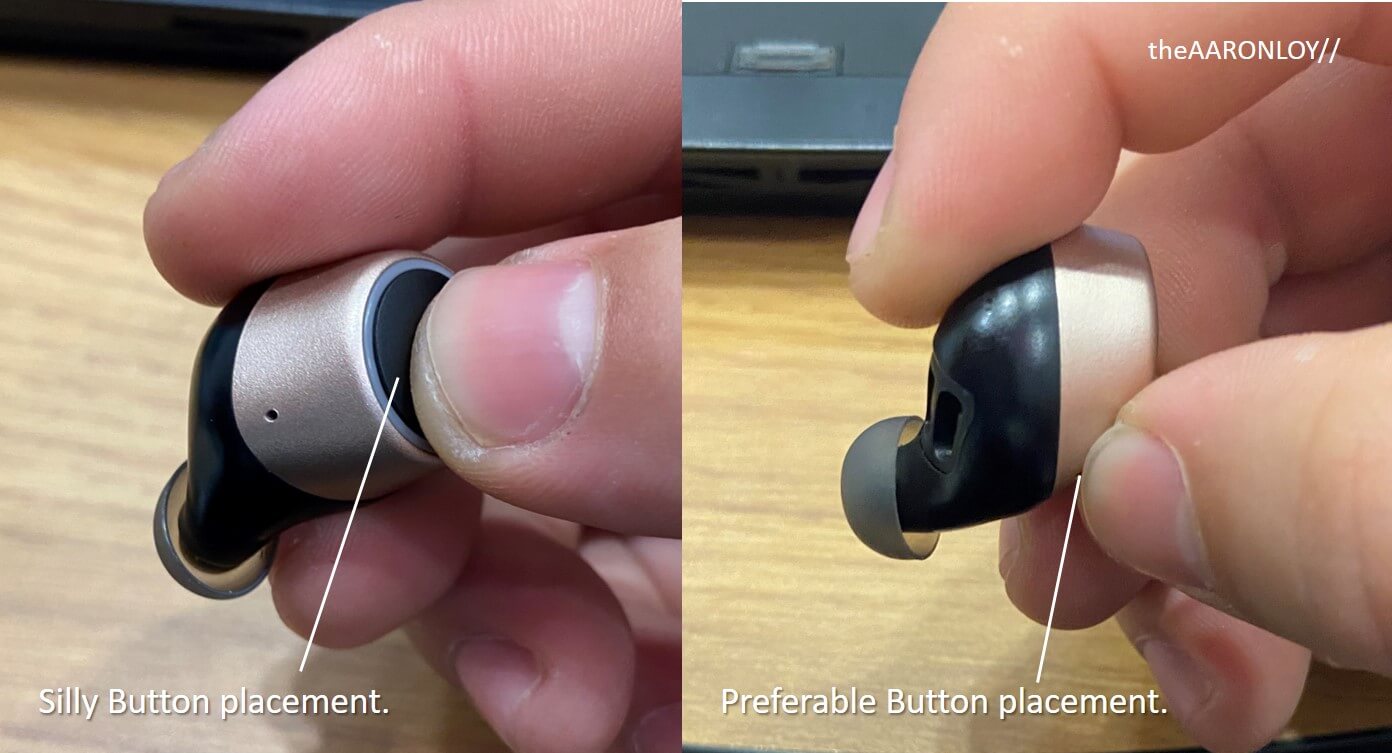 They should have placed the button at the bottom, so that you can push it using your thumb, with your index and middle fingers as support.
In practice, it means that you're more likely to use the buttons when the Outlier Gold is unattached to your ear, which kinda defeats the purpose.
Thankfully, this has been rectified in the Creative Outlier Air V2.
That placement only makes sense on products like the Sony WF-1000XM3, because those use touch controls that do not require any force to operate. And speaking of that, I have to say… that Sony earphone is much more comfortable than the Creative Outlier Gold.
With the outlier gold, you can get a good seal. But, ironically, that might be the problem.
On WF-1000M3, I used the hybrid buds, which were more comfortable and and had a better seal than the standard buds (both are provided). I could listen to that for long stretched without feeling tired. It had a good seal but it felt 'breathable', if that makes sense.
With the Creative Outlier Gold, it was an airtight seal. Great for keeping out ambient noise, but terrible for comfort. I get ear fatigue and feel the need to let my ears breath after 2-3 hours, and when I do, I always feel the need to pop my ears. Hmm.
The case is easy enough to use. It's also wide enough to feel a bit weird in your pocket, but it's not a huge issue. It's mostly aluminum and feels solid.
Sound Quality
It's like looking at a high-quality picture on a premium postcard. It's clear, you see everything that you need to see… yet it's not the same as being there. Words like 'lively' and 'dynamic' would not be used to describe how the Creative Outlier Gold sounds.
So, to my ears, I'd say that the sound quality is… good. It's not fantastic, not out of this world, but good, neutral, and… flat. The full range is available, with no bias towards any of them. Not good enough if you're a connoisseur of music, but definitely good enough for convenient, no-frills enjoyment.
Oh. And it has a surprisingly good mic. Had to use it for a presentation in a pinch and was told that I sounded loud and clear even though I was in a public area. Infinitely better than the Sony's, which for some reason, sounded like it was purposely trying to drown your voice out with background noise.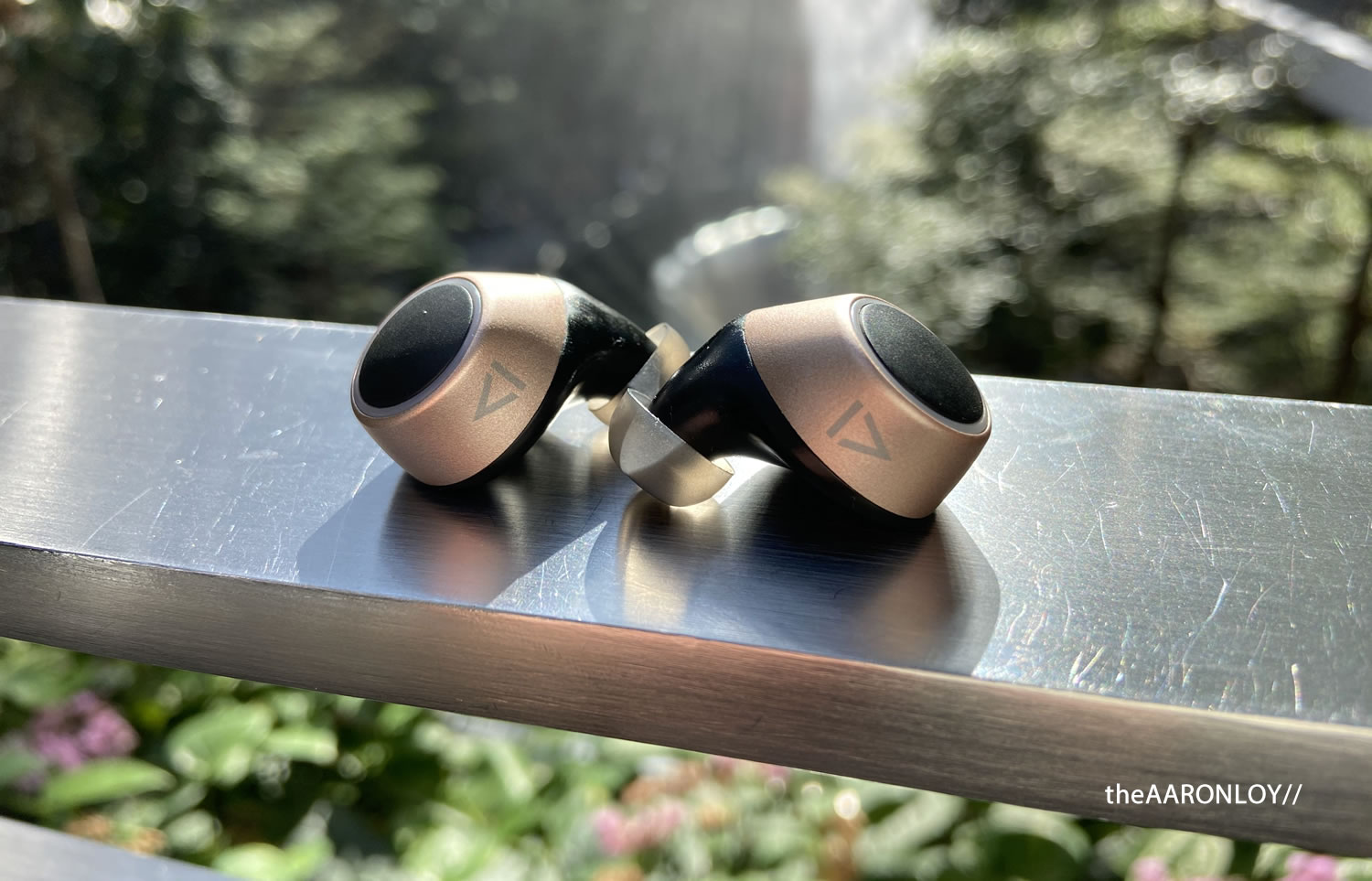 Features
The Graphene Diaphram is a feature with no value since we're not sure how it adds to the sound quality, and I'd say that the inclusion of the AptX codec is wasted here because this unit is incapable of highlighting the difference.
I also think that the Super X-Fi sound processing is a pointless gimmick. It's supposed to expand the sound stage and mimic a proper multi-speaker surround sound experience… but for me, all it does is make it feel like you're in a room with very bad speakers. Its implementation is extremely limited as well. You must use Creative's proprietary app, which is not compatible with other apps and streaming services.
You can only use Super X-Fi with the songs stored on your phone.
Also, it does not seem to have a native ability to pair with multiple devices. I managed to find an unofficial workaround for this though.
Each earpiece is capable of being the 'main' unit. What you do, is to pair each side with a different device (i.e. Left with a laptop, right with your phone), and voila. So, to 'choose' your device, just pick up the appropriate unit out of the charging case first. It can get finicky but this seems to work most of the time, and obviously you're limited to pairing with 2 devices because there's only the left and right earpieces.
What matters, however, is Outlier Gold's Water Proofing and Fantastic Battery Life. It's rated at IPX5, which means sweating and even the occasional dunk into water is no issue.
Creative claims a 14hr battery life, with a backup charge of 25hrs in the case. In practice, I was able to get about 10 hours out of a single charge, which is much, much more than what most competing truly-wireless earbuds are capable of. At 1.8x additional charge in the case, this means a total real-world charge of around 27 hours. The lack of a quick charge function is unfortunate, but it takes about 2 hours to fully charge the earbuds, so even a short 30-minute break to charge them up should give you at least 2 additional hours of listening time on short notice.
Value
I have to say, for its price, the Outlier Gold is good value for money, even without the gimmicky features. What's important is that the core aspects work really well. Feels a little cheap, but seems well made.
There are definitely better earbuds out there, but at this price, it's damn good value.
Creative Outlier Gold Review: Conclusion
The Creative Outlier Gold is my first foray into Truly-Wireless earphones.. and it's a good introduction. Gimmicks and silly control button placement aside, its price, long battery life, waterproofing and decent sound quality makes it a good affordable all-rounder. I just wished it was a little more comfortable for extended sessions.
Where to Buy
Outlier Gold
Creative: SG, US
Amazon – US, UK, CN, DE, FR, ES, IT, JP,
Outlier Air V2
(As far as I can tell, it's practically the same, with a different colour and touch controls.)
Creative: SG
Amazon – US, UK, CN, DE, FR, ES, IT, JP,
This is not a sponsored review. theAARONLOY// is reader-supported. When you buy through links on our site we may earn an affiliate commission. Full disclaimer here.
Feels cheap. Looks... 'eh'. Stupid button placement. Pointless Super X-Fi feature. But... it has good, neutral sound, fantastic battery life and a reasonable price. So, for a 'truly wireless' earphone, the Creative Outlier Gold is still damn good value. Great for those on a budget or those trying out 'true-wireless' earphones for the first time.