Sudio Vasa BLÅ Review (Wireless Bluetooth Earphones)
(Also check out the Sudio Tre review) When I first heard about Sudio, I thought it was another one of those Chinese companies masquerading as an EU brand. Turns out, Sudio is a legit gadget company from Stockholm, Sweden.
So, everything looks great. Beautiful website, beautiful instagrams, and beautiful products on beautiful models… but are they any good?
Let's take a look at their Vasa BLÅ bluetooth earphones and find out!
(By the way, I was checking to see if Lazada were selling this, and guess what I found. Tap/click here. Haha. 'Bla'. Funny. Didn't know Lazada had a Singlish funny bone.)
Design / Packaging
The packaging is itself is simple and minimalistic. That said, for a brand that's so design conscience, the opening experience was kinda anti-climatic. Instead of a nice showcase when the cover is opened, what you get are plastic wrapped items inside 2 cardboard boxes.
They chose to put the battery and amplifier away from the earbuds, which means that you get smaller, more beautiful earbuds. This also means that there's an extra compartment hanging on the wire. It's light, so it's not an issue when you're exercising with it, and visually, with the control unit on the other side, it actually adds a 'balance' to the whole aesthetic.
I mean, at the end of the day, just look at the pictures. The Vasa Bla really is beautiful.
By the way, if you're thinking of getting one as a gift, make sure you get the S$5 'Gift Packaging' option, as you'll get that fantastic gift box that you saw in the unboxing video above.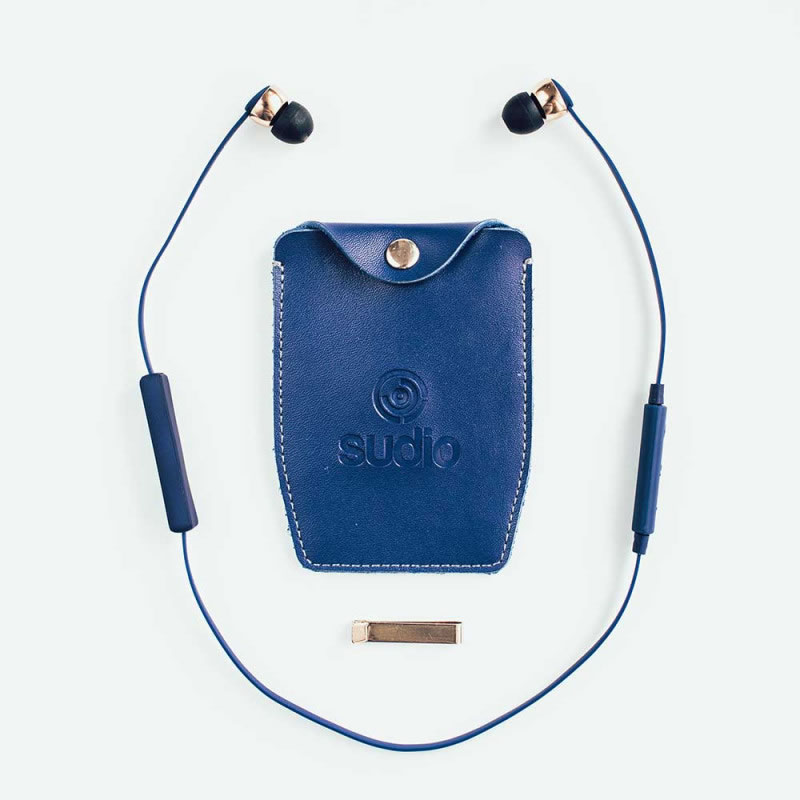 Build Quality
You can tell that most of the attention is mostly focused on the packaging and design of Sudio's products, because beyond that, things start to disappoint a little.
Upon taking out the unit from the box,  you get a cheap serial number sticker peeling off the battery/amplifier unit. Then the huge logo relative to the size of the cable – that's something true designers wouldn't allow. The leftover plastic trimmings from the manufacturing process is visible on the control unit. The micro usb cover on my black Vasa Bla couldn't close properly (Sudio provides a 1 year mail-in warranty). And, the buttons feel.. tacky.
The cheapness is definitely a little disappointing. It's not bad per se. The cable is fine, and build quality around the earbuds seem really good. As a full package however, there's definitely room for improvement.
The item with the best build quality would be the case with its thick, plump leather, tied together with a polished button and the colour contrasted stitches.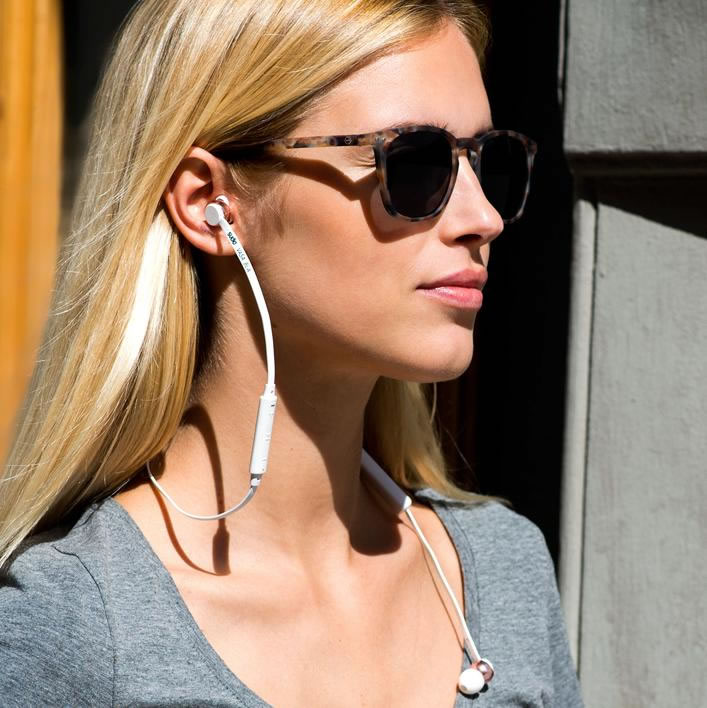 Sound Quality
Another mixed bag.
The Vasa Bla seems to be focused on the mids and the highs, and has a very distinct lack of bass. Those mids and highs could be smoother as well.
That said, it has a large sound stage, wonderful clarity, and very good sound separation, which is probably the work of its built-in amplifier, a feature that's unique to Sudio's Vasa Bla.
Definitely not for the ultra discerning sound buffs and beat droppers. However, the Vasa Bla still produces a fun, lively sound may have you tapping your feet.
Features
Fairly standard features. I mean, there's bluetooth, a microphone, 8 hour battery life (6-8 hrs is pretty standard nowadays), and it's sweat resistant.

Value
Prices very depending on where you're from. However, as long as you're not in the EU, you should get a 20% tax rebate.
This means, without any other discounts, the Singaporean price for the Vasa Bla drops from S$165 to a much more reasonable S$132.
Considering how most bluetooth earphones tend to be upwards of S$130, the Vasa Bla is actually competitively priced.
Oh, did I mention there's free shipping to Singapore too?
(International orders available. Visit their homepage for relevant local prices. Free delivery may not apply to all countries. 20% tax rebate applies to non-EU countries)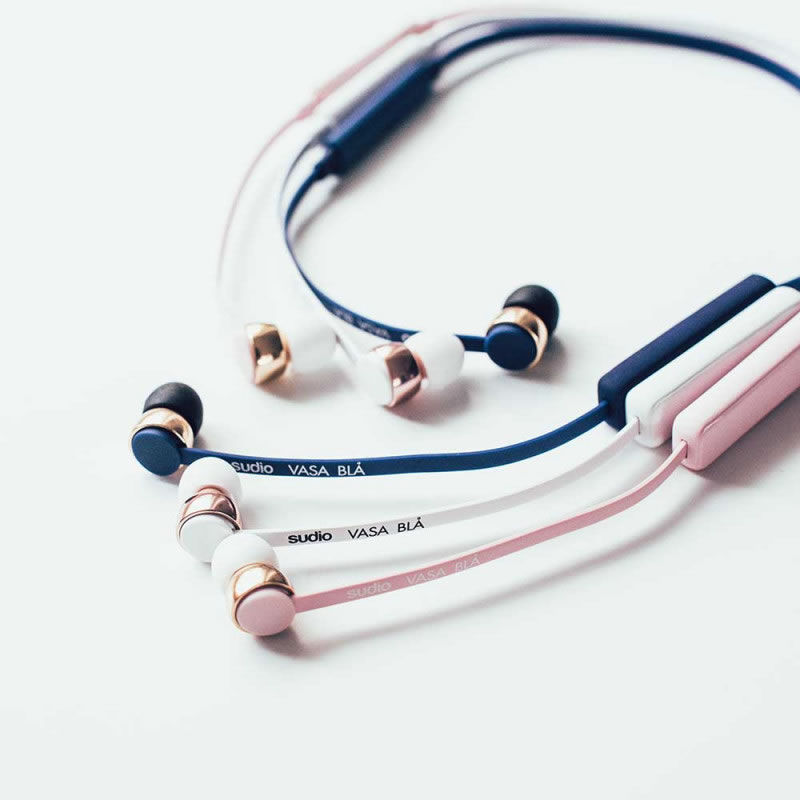 Conclusion
The Vasa Bla is definitely not for the ultra discerning sound buffs with its weak bass and somewhat rough highs and mids. The lack of attention to detail on the build quality and packaging also dampens the experience a little.
However, the large sound stage and above average clarity still makes it a fun and lively unit, and with the tax-rebated price, you probably not find a better looking wireless bluetooth earphone elsewhere. The damn good looking clip and genuine leather case also rounds out the package really well.
Sudio's Vasa BLÅ Discount Coupon Code
Guess what? As a thank you for supporting this blog, here's a 15% discount coupon from Sudio for the Vasa BLÅ wireless bluetooth earphones!
Just key in 'theaaronloy' when you check out and you'll get an additional 15% discount.. ON TOP of the 20% tax rebate!
Final Price? S$112.20, with free delivery to Singapore.
Don't say I bojio ah.. so looking to get one? Then visit sudiosweden.com
(International orders available. 15% coupon applies to international orders. 20% tax rebate applies to non-EU countries.)
Vasa BLÅ review units provided by Sudio. No Sudio affiliate links/coupons. Full disclaimer here.
Sudio's beautiful Vasa BLÅ wireless bluetooth earphones is unable to drop the beat, yet it keeps things fun and lively with above average clarity and a large sound stage. Don't forget the sexy clip and genuine leather case as well, which rounds out a very competitively priced package. Remember to use coupon code 'theaaronloy' to get a 15% discount!