iHerb Discount for Existing Customers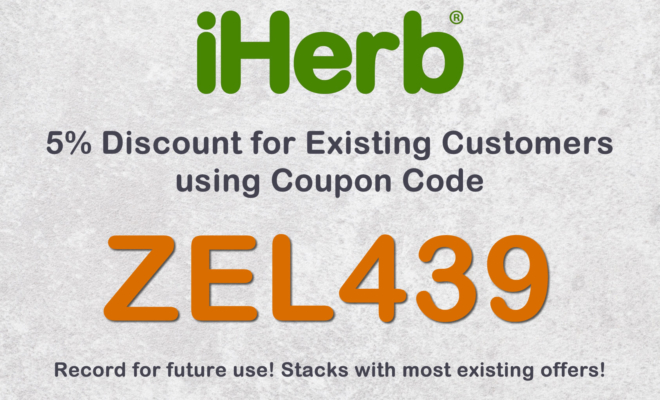 To Long: Didn't Read – Get a 5% iHerb Discount for Existing Customers with coupon code 'ZEL439'.  This discount STACKS with most 'seasonal' & delivery offers, so record it for future use! Or, click here to automatically apply the discount code. (Still works for 2018… and 2019!)
Also do check out my review if you're unsure and find out why I use iHerb exclusively for my family's supplement and organic product needs.
iHerb's New Coupon System
It seems like iHerb has been in a bit of a rough patch lately it seems. There were a few large and somewhat abrupt changes to the company's focus, promotional mechanics, and rewards system.
Prices were fluctuating a little bit. The amount you get as loyalty credits for returning iHerb customers changed a couple of times as well.
Probably the biggest change however, was a complete overhaul of coupon discount system. To encourage people to spend more, the old iHerb coupon system had 2 tiers of discounts. If you spent more than US$40, you'd get more discounts than if you didn't. Also, existing users could not use these coupons for discounts, since it was meant as a incentive for new people to try them out.
The next biggest change was made to its rewards program, which saw the removal of automatic credits from past referrals. This meant that you could only get reward credits for brand new referrals.
The loyalty program changed too. The loyalty % kept changing.. and now you are only able to get loyalty credits if you're paying by cash (as opposed to the rewards credit). This does makes sense however, otherwise they'd be double-discounting.
Personally, I've been wondering how they were going to manage their costs. They had a huge amount of inventory and the offers they were giving were pretty good. The automatic referral credits would also be a huge load long term. My guess is that iHerb had a change in management, and this change led to the current overhaul.
Not All iHerb Coupons are the Same
This is great news for everyone of course, because this means that there is now the iHerb discount for existing customers… but only for selected coupons!
And this makes the iHerb coupon 'ZEL439' special, because this coupon gives a 5% discount for ALL customers, old and new!
And yes, this coupon will work with the existing offers, like the extremely convenient free/discounted shipping options, as well as the new loyalty credits. It even works with the new bulk discounts as well. So as you can already tell, once you start stacking all the different offers together, the savings add up substantially.
How to Apply Discount Code
It's very simple – Just use the links in this post, on this website, or key it in manually when you check out, very easy!
Remember to record the code down for use in your future orders!