Philips AirFryer HD9240 – Best Sale Price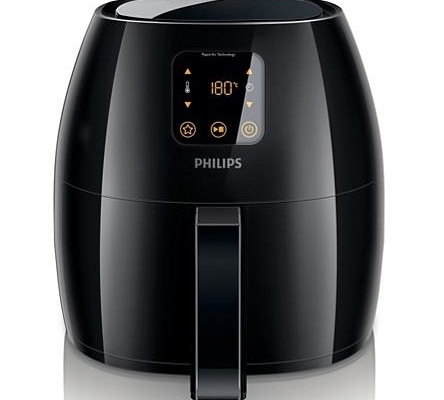 Even though 'Airfryer' technology has been around for a rather long time. Remember those round 'rapid broilers' sold on TV? Yeap. Airfryers are essentially redesigned broilers that use superheated air to cook.
Thanks to insightful, user-friendly design overhauls and improved superheating by Philips however, Airfryers have become more effective at 'frying' foods, while being easy to use and to clean.
With these airfryers, you can cook crispy, crunchy, tasty, healthier foods, using little to no oil!
The HD9240 Airfryer is 1 of the newer, high end models from Philips.
Bake, grill, roast or fry using the latest rapid air technology. It also has a large 1.2kg cooking capacity, allowing you to prepare meals for up to 5 people in 1 go!
The digital control screen also sets the HD9240 apart from the rest of Philips Airfryers. Control temperature and cooking times easily using the large display. It also has a smart preset button for you to save the settings of your favourite meal!
Philips HD9240 Airfryer's Price in Singapore
The suggested retail price (SRP) for this Airfryer is $438… which isn't cheap.
To entice buyers, different stores tend to have different offers. Here are some of the offers available around Singapore:
Harvey Norman
$438
Takashimaya
$438 (Usual Price $539… rubbish of course)
Free: Philips Daily Collection Blender worth $75
Tangs
Black: $439
White: $389
NTUC Warehouse
$398
Free: HD9240 Grill Pan
Best Price for Philips HD9240 Airfryer
The best price I've found however, is from Lazada, starting from about $250.
Huge difference yea? And yes, it comes with local warranty. The grill pan is also available at about $40.
As you can see, buying both the Airfryer and the grill pan separately from Lazada with free delivery to your home is cheaper than most store options in Singapore. Even all the 'special offers', rebates, rewards points, etc, from Tangs and friends, doesn't make it any better.
Click to check out the latest prices for the Philips HD9240 Airfryer on Lazada