Bukit Panjang LRT – Alamak. How ah.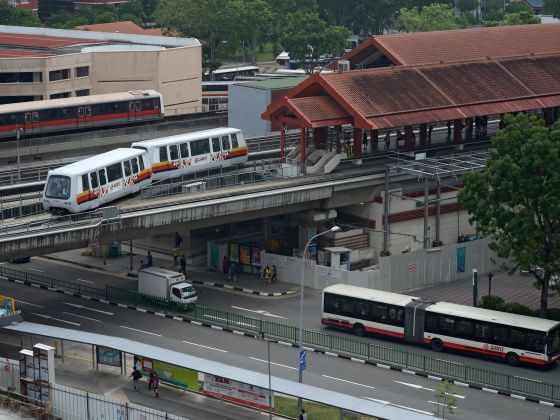 Hiyah. Why like that.
I'd just like to start by saying that the Singapore govt, LTA and its pseudo private constituents (SBS, SMRT, etc) are actually very capable. I'm convinced that we have probably the only directly/indirectly govt run/controlled/manipulated institutions that are as efficient, if not more so, than other private companies in the world.
The EW then NS MRT lines ran for almost 20 years without fault. That's a testament to said institutions' abilities. Such equipment doesn't take 20 years to fail from wear and tear, so age is not the primary factor. The real problem is chronic, systemic neglect over many years.
I shall not speculate on the root causes. Later gena aim by zeng hu.
Why the long winded introduction? To reinforce the fact that you guys have done it before, at a time when we were focused on creating a modern Singapore, so compromises and short cuts were, presumably, minimised.
Now? It seems like even the new systems are becoming problematic when still relatively new. If nothing else, this served to reinforce that fact that age is not the real problem, but something in the way these projects are being managed. Are decisions made, budgets allocated and plans executed competently, right from inception?
Well. We went from having created a world-leading public transport infrastructure, to being proud of one that's 'world-class', because it doesn't seem to break down as often as other infrastructures around the 'world'.
Now, back to topic.
I'm a resident at Bukit Panjang, and I must say, I've been pretty lucky, because it seems like the odds are that I should have experienced a break down on the BPLRT at least once. I've quite literally 'never' experienced one before.
Maybe that's why I haven't struck toto yet. The luck energy got diverted.
I guess that's also why I'd be sad to see the BP LRT go. It IS a much more time-efficient means of going around BP and to Choa Chu Kang. This would be especially so for those who live in the deeper areas, like Segar and Fajar. The loss of the LRT would definitely increase their travel time by at least 10-15 mins in each direction, in my humble estimation. It's a timing Khaw might be more forgiving of when people start complaining.
It's 200-300% more time leh, when compared to 5 minutes.
So, basically, in keeping with the keyboard warrior stereotype, I'd like to pretend to be an expert and give a suggestion – which is to keep the BP LRT, and to make the right decisions, whether it be the option to do an upgrade or a complete refit of the existing system.
There has been improvements recently to be fair. Buses and trains have reverted back to buses and trains, not tuna cans. We miss busses out of choice now, not out of necessity. Train frequency has improved. Definitely a far cry from the time when you were scratching your heads wondering why we're angry as the public infrastructure crumbles all around you (a small hint: delusional excuses. Later blame us some more. etc.). So, just keep heading in that general direction and you should do fine.
Or, you can start doing it well. No more cutting of corners. Aspire to be at least as competent, and motivated, as you once were, when you were first tasked to modernise Singapore with the conceptualisation and implementation of Singapore's first bus and MRT systems.
Add oil.
Photo coped from Today. Credits to Robin Choo.