Get the New No.4 Uniform for Free (Reservist NSmen)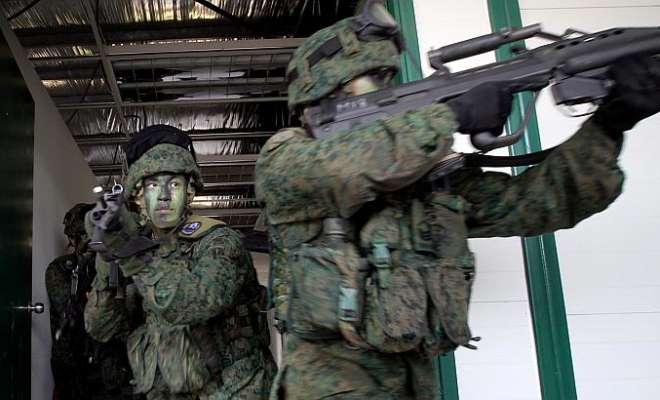 So, I got called back for my first high key in camp training, after 8 years.
Having ORD-ed 8 years ago, I was still stuck with the old uniforms and equipment (webbing, the tight field packs, etc). Naturally, I got a little concerned when the call-up notice only mentioned that I should report in Smart 4. What about my new uniform and equipment?
It didn't make sense to get a whole new set of uniforms using the NS credits because, well, these credits are only meant to be used on expendables like camo cream and socks. New uniforms should be re-issued by the SAF and reservist NSmen should not be expected to waste their money (cash or saf credits) on things they had no control over, like changing to an entirely new type of uniform.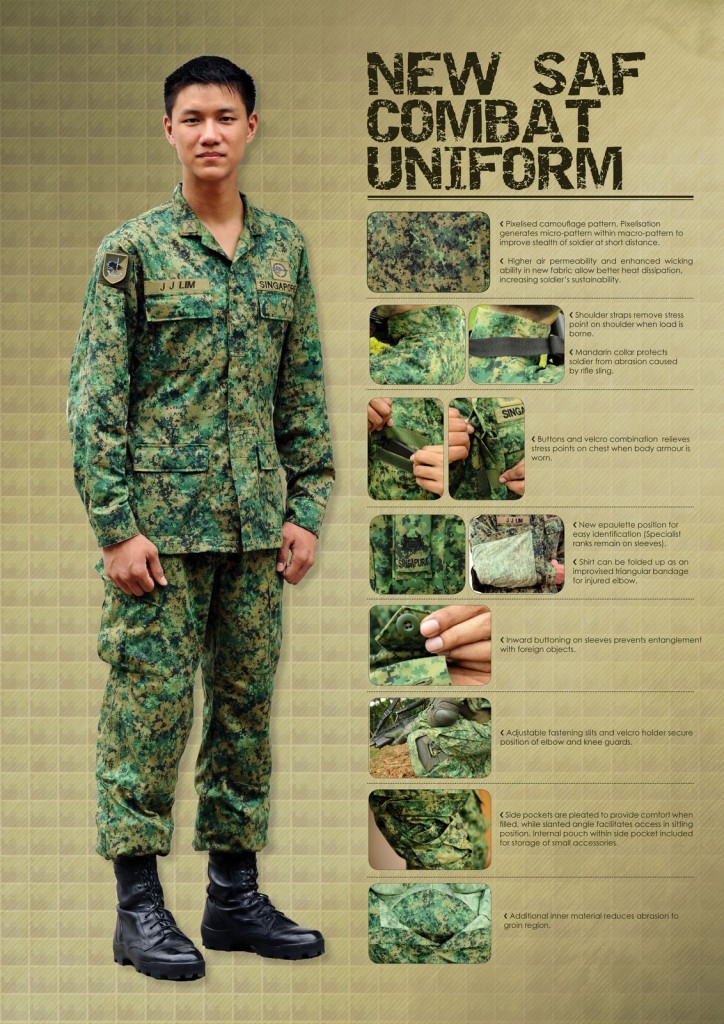 Get the New Pixelised No.4 for Free with 'E-Sizing'
After calling up my unit, I was told that there was actually a program for Reservist NSmen to get the new set of No.4s for free. All you need to do is to head down to the eMart at Chevrons or SAFRA Mt. Faber and say that you want to do an 'e-sizing'.
Here's what you'll get with the 'e-sizing' program:
3x No.4 Uniform (includes pre-sewn Singapore/Name/Formation tags + velcro for unit patch)
2x No.4 Ranks
1x Unit velcro patch
1x Pixelised Jockey Cap
1x Pixelised helmet cover
Other important things to note:
e-sizing can only be done Once
Expect a 1 month waiting time; Do it early
Self collect at either location, or deliver to your home for $8
In the past, 30 credits would be deducted for the e-sizing. I believe this is no longer the case as I didn't see any deduction in my account when I redeemed by entitlement.
I've read somewhere that it can be done online via the eMart module @ NS.sg, but I decided against it as I wanted to try out the uniform sizes. Here are the contact details for the 2 Tri-Service eMarts for the no.4 e-sizing:
Chevron eMart (Jurong East)
48, Boon Lay Way Singapore 609961
Daily: 1030 – 2030 hrs
Tel: 6862 5600
Mount Faber Safra eMart
2 Telok Blangah Way, 098803
Daily: 1030 hrs – 2030 hrs
Tel: 6272 1269
What about the new iLBV and Field Packs?
The new Integrated Load Bearing Vests should be issued by your reservist unit. Contact your respective units to confirm.
The new field pack however, doesn't seem to be something that the SAF wants to provide. A few regulars told me that even they had to use their own credits to get the new field pack. Probably why I sometimes see people still booking in with the old tight fitting field packs.
You may have to get them yourself from the eMarts, but as always, don't just take my word for it. Different units have different expectations, so make sure to call them or your superiors to check if it's a requirement.
Lastly, 9% Discount for Online orders
Credits getting low? Well, you can get a 9% discount if you order items via NS.sg It's great for the more expensive items like the boots and field packs. Usual delivery charges apply, but you can also choose to self collect at the various eMarts around Singapore.
Hope you guys found this useful. Do drop a comment/message if there's anything that needs to be updated.