XCOM 2, the sequel to one of my favourite games of all time, is now available for pre-order!
There are 2 version:
The standard edition, which comes with the XCOM 2 game for $59.99
And the XCOM 2 Digital Deluxe Edition, which includes the full base game, XCOM 2 Reinforcement Pack, and the digital soundtrack, for $74.99
The XCOM 2 Reinforcement Pack is basically XCOM 2's DLC season pass for these 3 upcoming DLCs:
ANARCHY'S CHILDREN is a rebellion themed DLC featuring more dramatic soldier customizations. (To be released in Spring 2016)
ALIEN HUNTERS introduces new soldier customizations and gameplay themed around XCOM as an elite alien hunting unit. Face off against "Ruler" aliens with new, more powerful weapons and armor. Experience a new dramatic mission & confrontation. (To be released in Summer 2016)
SHEN'S LAST GIFT introduces a new soldier class with unique upgradeable weapons, armor and customization features, and a new narrative-driven mission and map. (To be released in Summer 2016)
XCOM 2 Discount
Here's how to get at least a 20% XCOM 2 discount: Just click the Green Man Gaming banner below and use the coupon code provided when you checkout.

Naturally, when I came across this, I had to use the discount myself! I wanted the digital deluxe edition, and here's proof of the discount I got: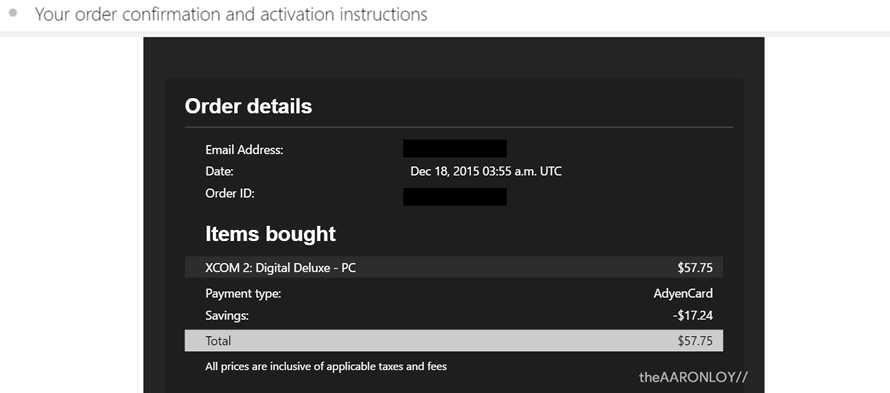 So, I got the XCOM 2 digital deluxe edition for $57.75 instead of the usual $74.99. Also remember that this works on other games as well!
XCOM 2 Discount Singapore
The digital deluxe sells for S$94.99 on Steam in Singapore, which is actually cheaper than the US store's pricing. Converted to Singapore dollars, the discounted price I got off of Green Man Gaming is about S$81 rounded up. That's still a difference of S$13.99, which is about 15% off. Better than nothing I say!
So start saving now, click on the banner above, use the coupon code and get your XCOM 2 discount now.
What is XCOM 2?
XCOM 2 is the sequel to the award-winning strategy game, XCOM: Enemy Unknown. Twenty years have passed since humanity lost the war against the alien invaders and a new world order now exists on Earth. After years of lurking in the shadows, XCOM forces must rise and eliminate the alien occupation.