MINISO Singapore, Another Chinese Ripoff, Arrives in Singapore
MINISO, an 'international famous brand of leisure department' that nobody outside of China has ever heard off, is putting its roots into Singapore's fertile retail ground. (You think Ka Laundry Detergent is from Japan? Think again.)
Headquartered in Japan at 4-2-8 Jinja Mae, Shibuya, which just so happen to also be an Italian restaurant in the Setagaya Ward, MINISO commands an unprecedented reach with 3000+ stores around the world that nobody can find.
Come 12th December though, that will change for at least 2 of them. The fast-expanding brand will debut with 2 new stores located in the heart of Singapore at prominent malls, Plaza Singapura Mall and Harbourfront Centre. The debut of the new MINISO Singapore stores marks a key significant milestone for the brand's growth in the Asia Pacific region.
Without too obviously ripping off of Japanese incumbents Muji, whose minimalist approach to unbranded quality products, Daiso, with its torrent of useful little trinkets, and UNIQLO, known for its affordable, useful and fashionable clothes, MINISO advocates simplicity and quality. Its product designs and offerings begins with the concept of 'going back to basics'. The brand believes in good quality, well-designed products that is accessible, and enjoyed by everyone from all walks of life.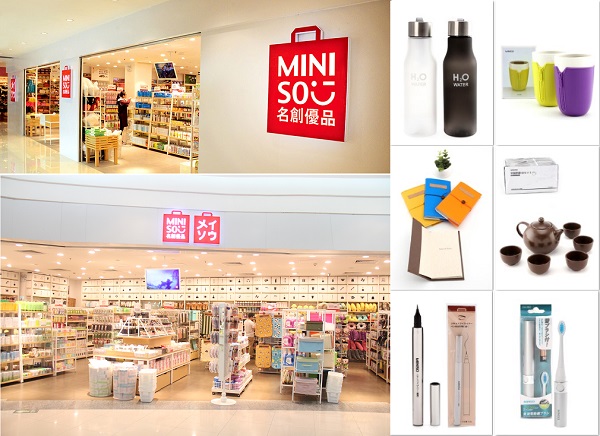 The man behind MINISO is none other than Miyake Junya, who is the 'initiator of global superior products consumption trend', and young Chinese entrepreneur, Mr Ye Guo Fu.
MINISO Singapore now joins the elite Japanese-But-Not-Really-Japanese brand train, which includes the English's SuperDry apparel brand, America's beauty powerhouse SKII (which had Japanese origins, to be fair), Malaysian Akemi Uchi's fluffy bedroom products, and Singapore's very own disposable electronics mainstay, AKIRA.
The people of Japan, who have never heard of MINISO before, celebrate the blatant co-opting of their national retail image by being amused at the poor command of the Japanese language on its various sites. English speakers can join in the fun as well since awkward phrasings abound in the English variants. We wouldn't recommend it as a way to improve your command of English however.
Reference and credit: Technielobang, Rocketnews24