SukiYa Review (Sukiyaki/Shabu Buffet)
It's nice to see affordable shabu shabu buffet eateries popping up.  It's a 'healthier', less greasy alternative to Korean BBQ, but just as filling and flavourful with the variety of available soups and fresh vegetables.
The first time I tried Sukiya was at at Katong 113. I bought a groupon without knowing that it was only for 1 outlet lol. Been back to the other outlets a few times and I've still got mixed feelings about them though.
Let's see…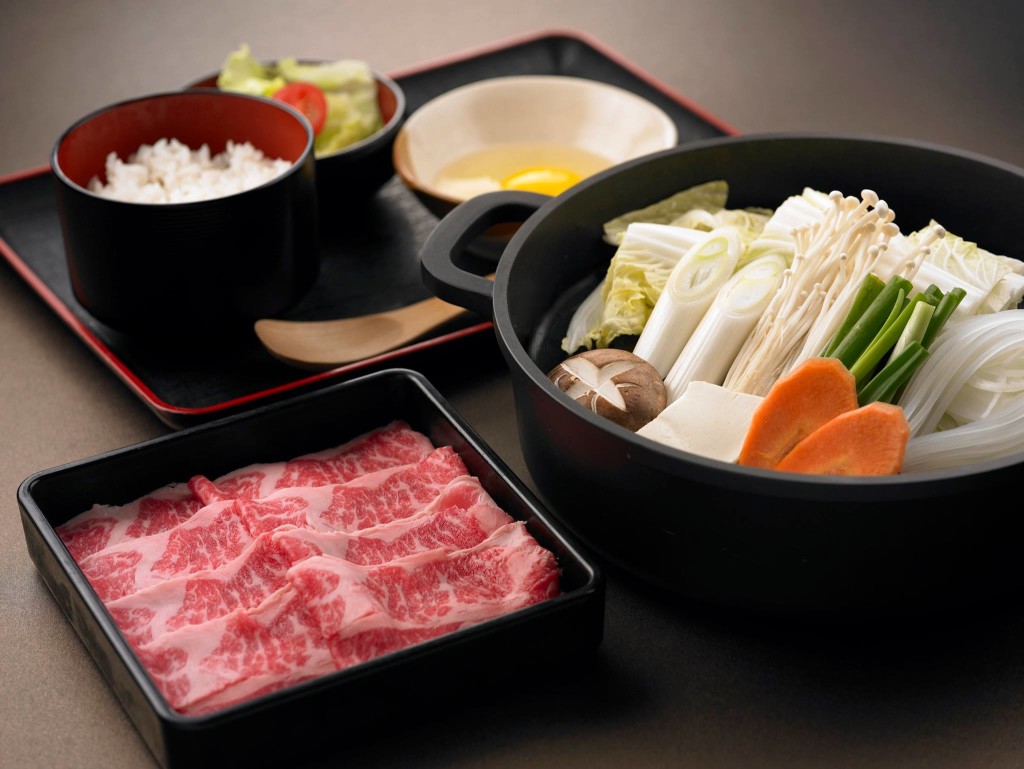 How It Works. It's simple – for the meats, you have a choice of chicken, pork and beef, which needs to be ordered from the staff. There's a selection of vegetables, sauces and other steamboat knick knacks at the buffet counter. Then, you can choose 2 of the 5 available soup bases:
Shabu Shabu, the traditional kelp based shabu stock
Sukiyaki, a diluted sukiyaki-ish soup
Tokyo Miso, a miso based stock
Butaniku, pork bone broth, and
Kimchi, for the spicy korean lover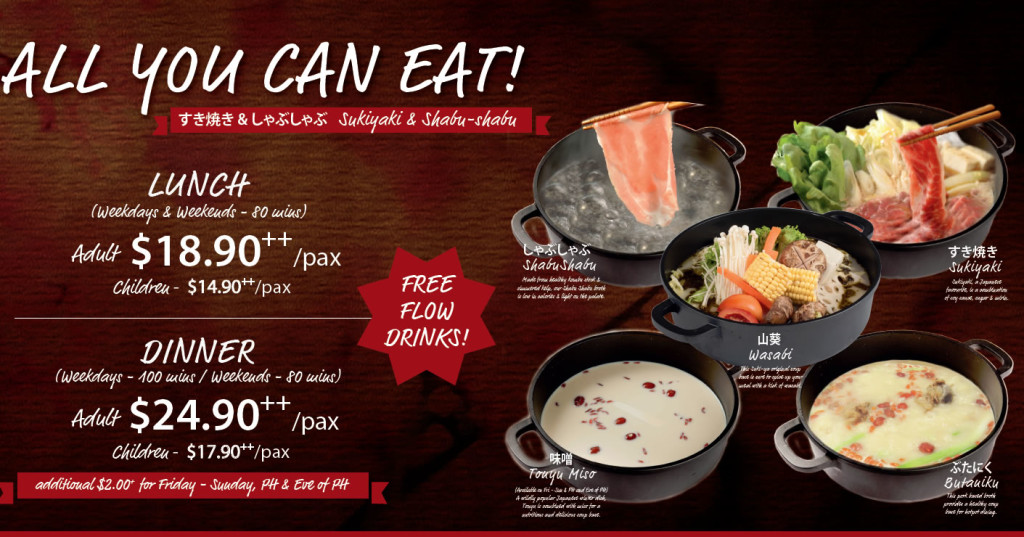 Prices. As above. Quite reasonable. The only thing to take note is the additional $2 for weekends, public holidays and the eve of public holidays. Free flow drinks are included as well. Honestly though, you'll rarely pay the standard prices because they usually have promotions running.

Promotions. Sukiya often run promotions, so it's always good to check their facebook and promotions pages to see what's up.
Their best promotions, in my opinion are their 1 for 1 or 2 for 2 deals, which is usually for OCBC card holders. You're basically getting half price if you have the right number of people. It's even better than their student offer, so bring your parents along kids. They sometimes run groupon deals as well.
Remember to check the fine print. The offer above, for example, is only for weekday lunch, at all Sukiya outlets except for Plaza Singapura, and there's a 60 minute time limit. In my experience, as long as there isn't anybody waiting, the limit is not enforced.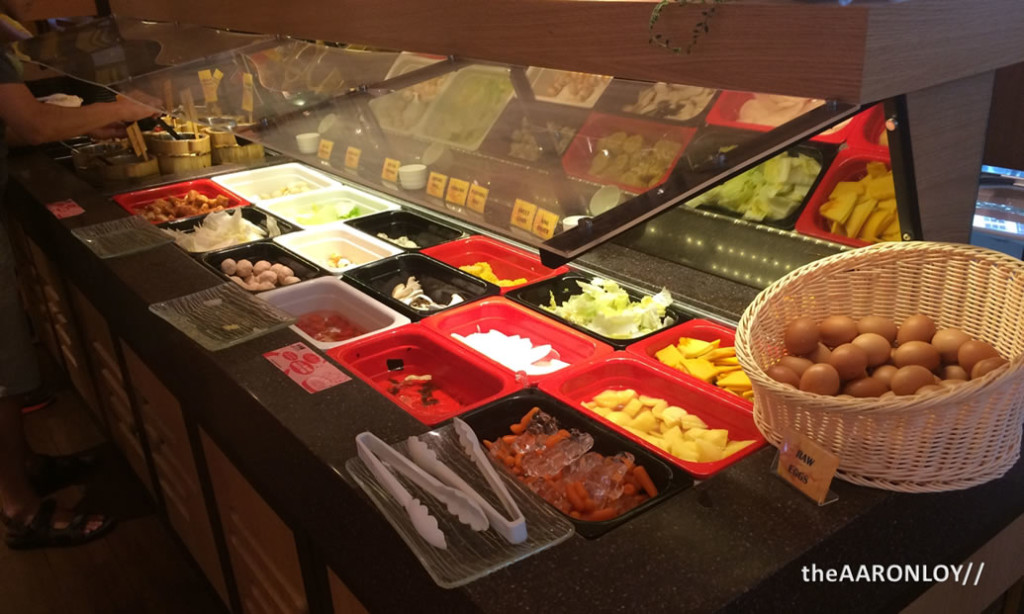 The Food. For the meats, Sukiya tends to choose leaner cuts. So, the beef you saw in the first picture? It's never going to be like that. Good news if you're picky about this sort of thing. If you're one for the marbling of the meats and flavour howeer, I suggest you look elsewhere (btw, low fat is no longer a healthy thing. google.). Passable.
What's disappointing, is their buffet and sauce line-up.
There are a few choices of vegetables, mushrooms and noodles. They do have a lot of balls however. Sotong balls. Cheese balls. Vegetable balls. Crab balls. Other balls I forgot. You get the idea. Basically, they took the cheap, easy route and decided to fill up the buffet line with processed foods so that they can say that there's a large selection to choose from. Right.
Then you have the sauces. Not only are they limited, they're diluted and flavorless as well. Argh.
Oh, did I mention the diluted soups as well? It's not as bad as the sauces, but it could be better.
There's also this new chicken soup that's a 'best seller'. Rubbish. I've never tried it, but if this is a new soup, how can it be a 'best seller'? (always hate it when companies use such shenanigans to promote something new).
Only 1.5 Reasons To Return. The first reason, is the promotions. With their 1 for 1 lunch promotion above, it's only $44.45 for a group of 4, service charge and GST included. That's like $11.11 per adult for a ballsy shabu shabu buffet with free flow drinks. Damn good value.
The other reason is the laksa soup base, which is now only available on special occasions, hence the '.5'. It's one of the best laksa broths out there, and having it with the pork, beef and even the balls? Ooohhh….
Conclusion. A 'meh' quality shabu shabu buffet with a sad steam boat line-up and terrible sauces. Sukiya, however, is saved by its credit card promotions, which makes them very good value for money, despite their shortcomings. And, when available, the laksa soup base is a sure winner.
More Info.
Outlet Information:
suki-ya.com.sg/outlet-info
For the latest updates:
suki-ya.com.sg
www.facebook.com/sukiya.sg