Where to Buy Bean Bags in Singapore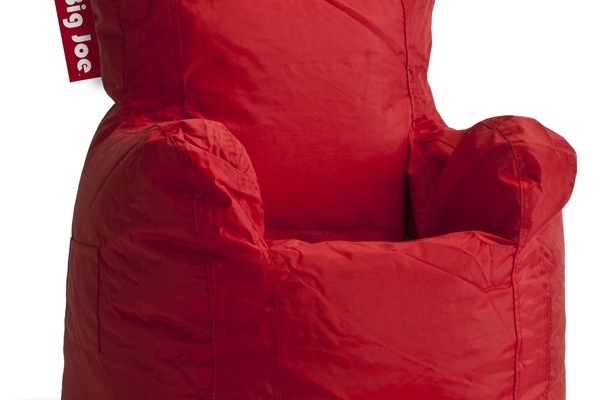 So, I've been trying to figure out where to buy bean bags in Singapore for the last 1-2 months. The thing that really perplexed me was how uncomfortable so many of them were. Practically all of them used bean fillings that were large, giving you a lumpy feel, and many of them used materials that were, frankly, rubbish.
So, here are the places I've bean (ahem) to and my thoughts about their beany offerings. Note that I've not bothered with online stores like Ministry of Chair that don't have a showrooms. It saves cost, and some of their prices are really good, but the feel of a product, especially for something like a bean bag, is very important to me, and I'd only commit after I'm happy with the audition.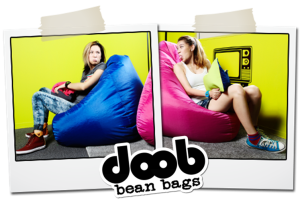 doob – www.getdoob.com
Get doob… because your butt deserves better! Or so they say.
This was the first company I checked out and first impressions online were good. It looked big, colourful and if you watched their video, you'll be able to appreciate the simplicity and adaptability of their design. Naturally, I had to check out the real thing. You can find them at their office (by appointment) or at a couple of Totally Hot Stuff's outlets. I dropped by the new one at Orchard Gateway.
Initial impressions were ok, until I got a feel of it. The material was more canvas than cloth-like, though amongst all the waterproof materials I've felt so far, theirs feels the best. The beans they use are smaller than most, though you still can feel the individual beans when you grabbed a handful of Doob. Prices are reasonable for their sizes though.
Hmm. Something to think about. Moving on. (Read my doob bean bag review and get a discount here)
Bean Bad Mart – www.beanbagmart.com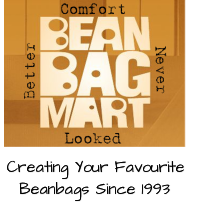 Checked out Bean bag mart next at their showroom in the basement of Park Mall.
Lots of designs and shapes to check out. They have a whole catalogue of materials, shapes and colours to choose from and they do customisations as well. Waterproof designs are also available. All these options do mean that they're a little bit on the pricier side. My chosen material and size was out of my budget, and again, I didn't like the beans, but I'd definitely keep them in mind for future custom jobs.
By the way, the beans they sell are 'standard' beans. They sell it at $15/pack, if I remember correctly, but you can get the exact same thing (brand and volume) nearby at Plaza Singapura's Spotlight for $10.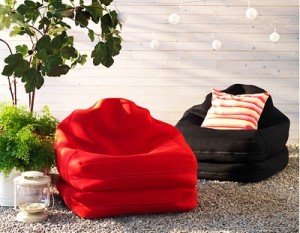 Ikea – www.ikea.com/sg/en
Hey, bean bags are back at Ikea!
The RISÖ bean bags come in black and red, and it's designed to open up underneath so that it becomes a bean bag with a leg rest. At $199, it's also quite reasonable, considering it has the additional function build into it.
I was on the fence though. Practical and innovative as always, that added leg rest function was a boon, yet somehow, it just wasn't comfortable to me. It was using the normal beans of course, but there was something… 'dirty-wooly' about the cover material. I remember feeling that I'd rather have a Doob style bean bag to this.
Oh well. Moving on.
Molecule – www.moleculeliving.com
Yeap. That super quirky and rather expensive furniture retailer. I was walking by their store at Great World City when I saw a small section dedicated to bean bags.
I forgot to take pictures, but most of their bags remind me of the ones sold by Doob. They also have a few large ones on display. Didn't like the material though, it's much thicker than the Doob's, almost like canvas. Would be fine outdoors but not sure if it's necessary for indoors. They have a couple more designs and cover materials to choose from, but they weren't really my cup of tea. The price 'after discount' (probably one of those on-going furniture promos) was quite reasonable.
Kendo  Lifestyle – www.kendolifestyle.com
Got a recommendation on this place on a forum.. somewhere. Can't remember lol. This is similar to those HDB heartland furniture stores and is not as 'professional', so you'd expect it to be much cheaper right? Not really.
They do carry some cheap designs, but the material also feels cheap, and if you opt for a slightly better cover, you'll need to pay more and you end up getting a price that's similar to the other places above… and you can't use credit cards, so you can't get any rebates or points.
My advise? Take a look if you're in the area (they're at Bukit Timah Plaza), but don't worry if it's out of the way.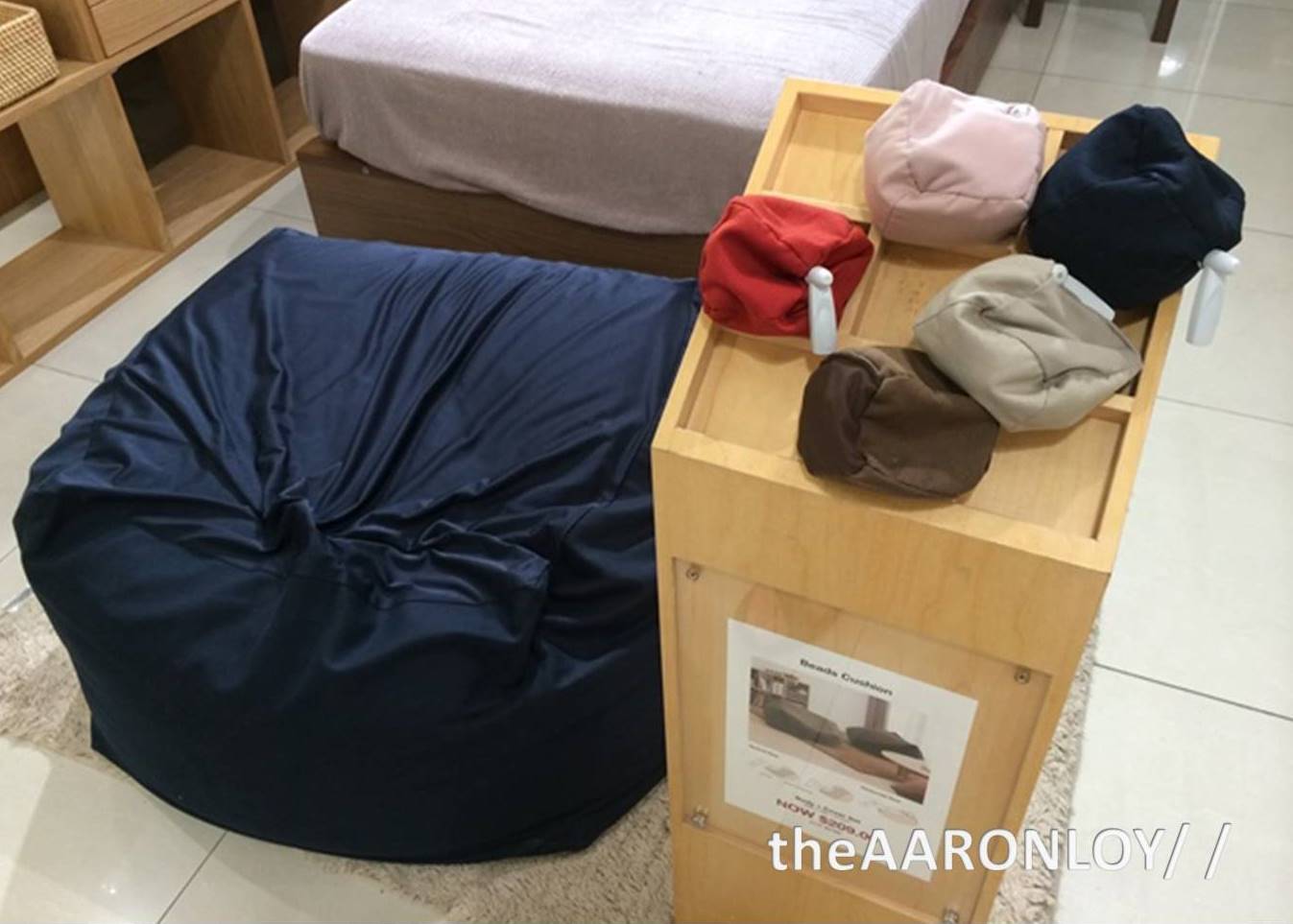 Muji
Check out the latest colours and order online here – http://bit.ly/MujiSgBeanBag
It comes in 5 different colours, with 2 more to come soon. Most importantly however, was how it felt. FINALLY, a proper soft, comfy, cozy, snuggy little bean bag to jump into. I remember reading on a forum that their bean bag looks like a tofu…it kinda does haha, and a rather cute one at that.
It's basically a square with a cotton body and a stretchy top and bottom. Not only that, the bean filling they use is TINY. Don't take my word for it, go to a Muji store and have a grope. Together, this means that when you drop your tired, weary body onto the bean bag, it doesn't just give way, like so many of the other bean bags do. Instead, it gently wraps around your body as the fine beans part while the stretchy parts holds the whole thing close to your body.
The only complaint I have is that it could be bigger. I can only imagine how it would be like if it were 1.5-2 times bigger. You'll need to look elsewhere if you prefer a beany for your whole body. Also, it's not water resistant, so take note.
But guess what? This is the one I choose after all the running around. I loved the overall feel of this this bag. If you want to learn more, you can watch a review I made below:
You can check out the latest colours and order online too here – http://bit.ly/MujiSgBeanBag
Yeap, that's it. I hope you guys found this useful. Feel free to drop a comment below, like the facebook page, the review video above and subscribe to my youtube channel as well =)
P.S. Information provided are accurate at the time of writing. Feel free to drop a message if you spot any mistakes, Thanks