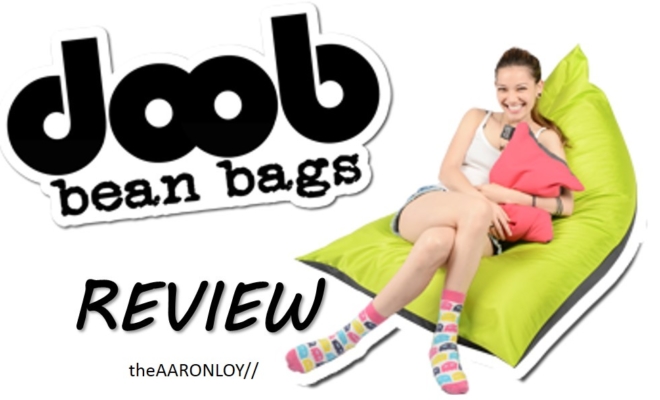 I wrote a little guide of where to buy bean bags in Singapore after my little bean bag huntwhile back. In it, I made comparisons for few different brands and gave my thoughts.
Apparently it was enough to capture the attention of the guys at Doob. They kindly offered to provide a medium or large 'doobsta', free of charge, so that I can have a chance to review an actual doob bean bag.
Wah lau. Are you kidding. I'll take the large one lah of course.
So that's my long winded disclaimer for this review. And this was almost a year ago by the way. I must really hand it to them for putting up with me. In my defence, no time frame was given, and I was able to get a much more in-depth opinion on the product after months of intense resting with the help of friends.
See, so professional right.
Anyway…
First, A Complaint
Before I get into the review proper, I have one niggling issue to talk about, which is they way their bags are introduced on the site. It can get a little confusing.
Each product has their own name with little or no relation to similar products. They way they're arranged on the products and pricing pages isn't exactly helpful either.
For example, the doobsta, plopsta, and Soopadoopa are actually the same type of bag with different material covers, and yet only 2 of them have similar 'sta' in their names. It's also hard to tell the bean bags apart using the pictures in the product page, since the platoopat, doobsta, plopsta and Soopadoopa look like the same bean bag with different colours because of the similar shape.
Don't get me wrong, I love the cheeky vibe they're trying to portray and their cutesy play on words, but they'll need to find a good balance so that it's fun and understandable, not chaotic and confusing. It's not a superficial thing too; My experience in retail has shown me that 1 of the silliest ways to lose customers is with a confusing lineup, and/or to have their products poorly represented.
My recommendation: One name for each shape, with all available options under that 1 name. A redesign (or at least a rearrangement) of their site will help too.
Ok. Rant over. On with the review. (This has been addressed somewhat – 2016)
Getting to know the Bags
doob's lineup consists of  3 types of material:
1. Tetoron – Rayon (cloth like, machine washable)
2. Polyester with PU undercoat (water resistant, hand wash / damp wipes to clean)
3. Synthetic Leather (water resistant, damp wipes to clean)
On top of that, they come in 5 main different shapes
1. Versatile Rectangle
2. Dumpling
3. Teardrop
4. Canned Food
5. Stool
To show you what's available in each range, here's a terribly done powerpoint graph, with pictures stolen from doob's main site, some with their scotch tape still on: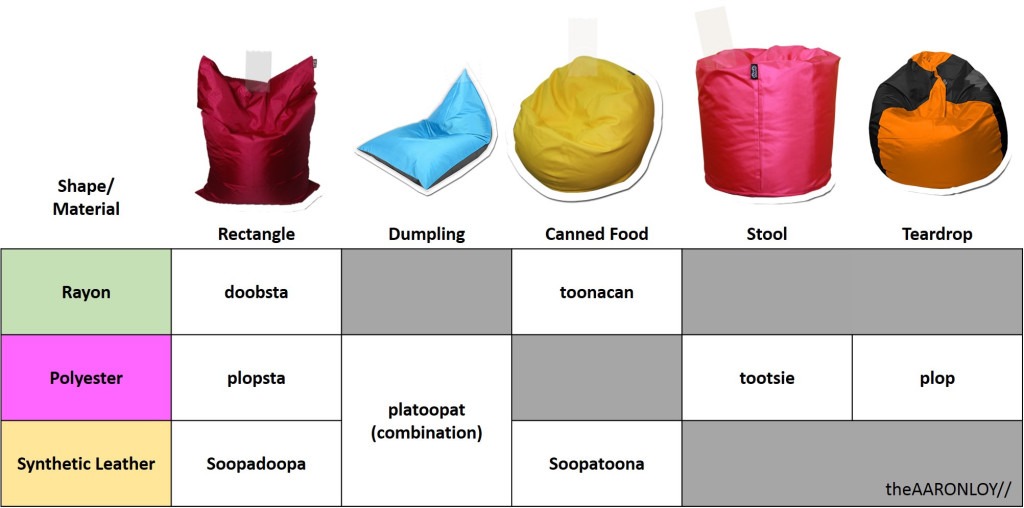 Personally, I'm not a big fan of fake leather because I'm hot prone to getting warm easily. Also, I was in the mood for something that feels good on bare skin, so I was leaning towards the more cloth like covers. I took a yellow-green Rayon doobsta in the end.
Oh, did I mention that they come in a plethora of colours as well?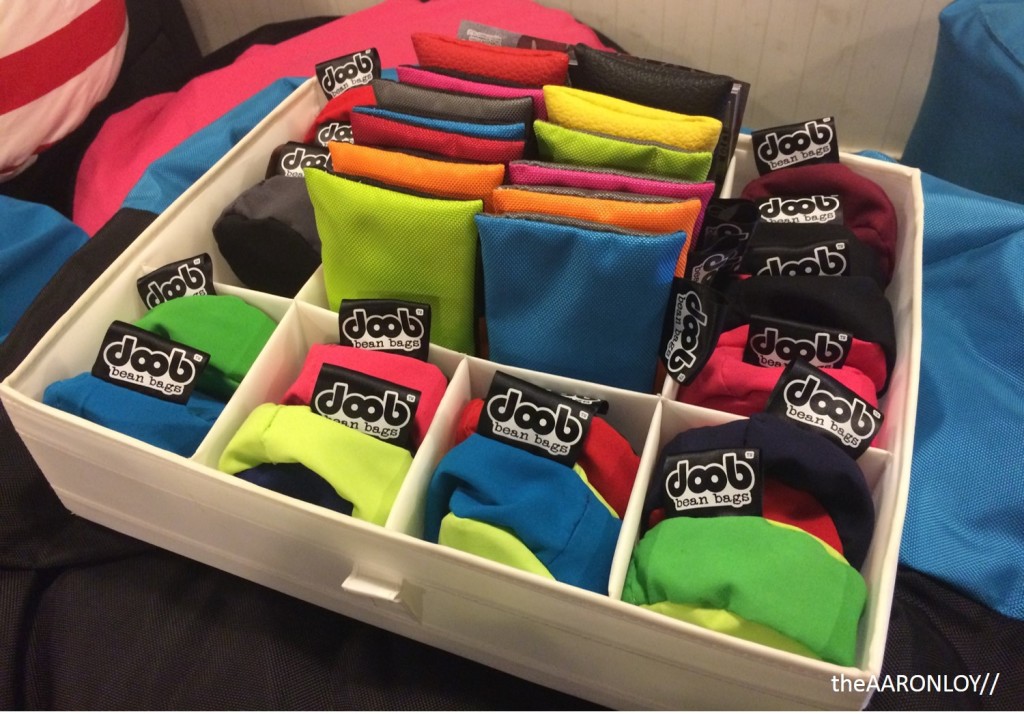 1st Impressions
I have to say, 1st impressions were pretty good.
First thing I did was to remove the cover for a wash, and this is where we encounter one of the main safety feature of doob bags: The lack of a zipper handle.
Apparently, some poor kid somewhere found himself stuck inside a bean bag once. Let's just say that it didn't end well. To prevent this from happening, zipper handles are removed. Extremely thoughtful little detail, if you think about it.
Opening the zipper is still an easy process for us adults. All you really need is a deft finger and thumb, or a paper clip that hooks on to the zip fastener, and off you go.
As we all know, the styrofoam beams in bean bags tend to shrink after some time. To counter this, the kind guys at doob decided to overfill their newly shipped bags by 30-50 litres, depending on the size of the bean bag. While thoughtful, I would have preferred that they didn't do so. The result of overfilling is a bag that's not soft and 'plop-able', and is instead a little too stiff for my liking.
I spoke to the guys at doob about this and suggested that they could maybe just give a bag of refill instead. That would increase costs due from labour and packaging though, which is obviously not what we want. A minor issue, really. But, if you're a stickler for little details like me and find your new doob bean bag a little too stiff for your liking, you can always remove some and store it for later use. Free refill, yay!
My Friends…
I found myself not using my bean bags when I'm at home usually, but I'll make sure to bring them out when my friends are around. After months of use, this is generally what they had to say about my doob bean bag:
They didn't like:
– The overfilling
– The rayon cover can get warm after awhile
They did like:
– The size of the large doobsta
– The eye catching colours
– The build quality
– The feel of the rayon cover
…And I
While I'm pretty much in total agreement with my friends, I do have two more reason why I liked doob's bean bags.
First, the beans.
In my search for bean bags around Singapore, I found that the styrofoam bean in a doob bean bag were a little smaller than what most of their competitors use. This is extremely important. The smaller the beans, the better the 'plop-ing-into-the-bean-bag' experience.
Second, comfy water resistance.
If you're looking for water resistant bean bags that are also comfortable to touch, look no further. Compared to what I've seen out there, their water resistant polyester covers are relatively soft and comfy. I got the cloth like rayon option, but if I were looking for something water resistant, I would get a doob bean bag with the polyester cover. Great for the kids.
Prices and Shipping
Another reason to like doob dean bags: Reasonable prices. (And for you, a discount. More on that later).
The large 320L rayon doobsta, which is the one I got, is $199. Similar large bean bags in polyester and faux leather go for $269. Apart from the $379 Sleeping Grizzly Bear, which is actually actually quite cute, the prices of the other bags range from $99 – $269, depending on the shape, material and size. The full list can be viewed here.
Shipping above $50 is free for orders within Singapore, which effectively means you get free local delivery with any doob bean bag order. If you're reading from abroad, international shipping for their covers and lining can be arranged.
Payment is done primarily with credit cards via Paypal, though internet banking and bank transfers can also be arranged.
Conclusion
Great value for money
Lots of fun options
Great build quality
Thoughtful little details (safety features, bean overfilling)
Most comfy water resistant option for bean bags
All in all, doob is a great all rounder with a little something for everyone. The thoughtful safety features and the one-of-a-kind comfortable-yet-water-resistant polyester cover deserves praise. Extremely good value for money when you take into account the prices, available sizes, colour choices, and the fact that they straight up overfill their bags into account.
Oei. Where's my doob bean bag Discount.
Ah yes. doob was kind enough to give you guys reading this a 10% discount!
Their online store here here at mrphy.sg. So, all you need to do is enter the coupon code 'taloy' when checking out and you'll get the 10% straight away! Coupon applies to all products in myphy.sg! You can try using that for bulk orders too =)
Doob Bean Bag / Myphy.sg Discount Code Conditions: Minimum spend of $50, not applicable to sale items, not applicable in conjunction with other discounts or promotions
More Info.
doob bean bags
getdoob.com
facebook.com/doobbeanbags
Online store: mrphy.sg/brand/doob-bean-bags
Doob/myphy.sg 10% discount code: taloy
Main Office
55 Serangoon North Ave 4
S9, #09-03
Singapore 555859
Weekdays 11am-6pm, by appointment only
call/SMS +65 97535927
Complete Range. Cash & carry if stock is available
Partner Locations:
Totally Hot Stuff
Orchard Gateway
277 Orchard Road #03-02
Singapore 238858
Tel: 67026423
(grizzly bear, small plop, medium plopsta')
West Coast Plaza
154 West Coast Road #01-59
Singapore 127371
Tel: 67792556
(grizzly bear, medium plopsta')
[email protected] (beside NUH Medical Centre)
1 Lower Kent Ridge Road
#02-09, Singapore 119082
Tel: 66941906
(grizzly bear, small plop)

Naiise
Central Clarke Quay
6 Eu Tong Sen Street #02-23
Singapore 059817
(grizzly bear, doobsta', plop, plopsta', soopadoopa, soopatoona, tootsie)
Slingshot
71 Ubi Road 1
#05 – 40 Oxley Bizhub
Singapore 408732
Tel: 81256920
Weekdays 11am-6pm, by appointment only
Saturday, 12pm-8pm
(grizzly bear, medium plopsta')