Best Thunder Tea Rice in Singapore (Lei Cha, 擂茶饭)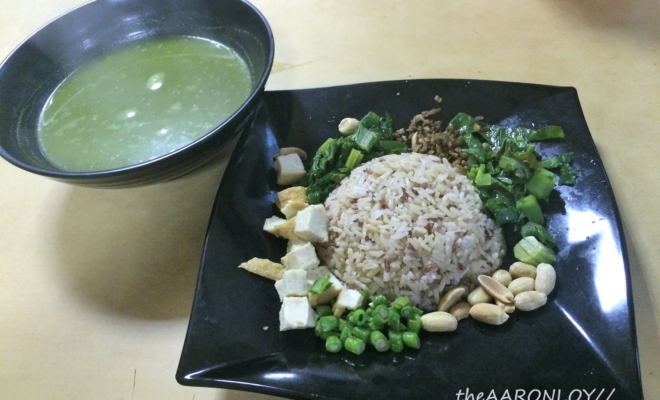 I must be weird.
I'm not exactly a healthy eater, yet I've never had issues with vegetables.
Naturally, I always like to remind my parents how lucky they are: I don't smoke, I hardly drink, I don't have a sweet tooth, and I love my vegetables.
And so, we lead to one of my favourite dishes of all – the infamous Hakka 'Thunder' Tea Rice (aka 'Lei Cha Fan', 擂茶饭).
Actually, the 'thunder' is a bit of a misnomer because the word '擂' (Léi) actually means to 'pound'. It sounds exactly the same as the '雷' (Léi) for thunder. You can see that the '擂' used in '擂茶饭' has the 'hand' component in it. But I guess 'Thunder Tea' sounds much better than 'Pounded Tea'.
Oh yes, I'm extremely fun at parties.
Anyway, these are my favourite places to satisfy my Lei Cha cravings, in no particular order:
Thunder Tea Rice Private Limited
The company that spoiled the market with its name. If you think about 'Lei Cha' and where you thought you saw the stall was, then this is most likely the company you're talking about. This is also the only meat-serving lei cha establishment; The others are mostly vegetarian only.
The only disappointment here is in the 'Lei Cha' itself. Among my recommendations, the serving here is the smallest, and it's the least flavourful.
They're still a reasonable choice though.
For the standard Lei Cha rice and tea combo, it's $5.80, which is very good value for money, considering how they're not stingy with the rice portions. It's the same price even for their food republic outlets at Vivocity and Suntec City. If you'd like more variety, you can order the sets that come with things like fish fillets or prawn meat rolls. They don't charge extra for takeaways too!
Note for Vegetarians: They'll ask if you want ikan bilis, just say no.
Tip: Get $1 off at Suntec City's Food Republic Outlet if you're a Golden Village cinemas member. Just show them your e-card. (Until end December'17)
Cons: Least flavourful 'Lei Cha'
Pros: Filling, Value for Money, Non-Vegetarian Options,  Most Variety, Many Outlets, Free Takeaway, Damn Good Takeaway Container
Facebook: facebook.com/thunderteariceyuyuan
Lei Cha Delivery: Call 9699 8369, Fax 6342 0232, [email protected]m.sg, and check out their order form here. Minimum order applies.
Main Outlet
328 Joo Chiat Road #01-04, Singapore 427585
Tel: 6342 0223
Lau Pa Sat Festival Market (Stall 12)
18 Raffles Quay Singapore 048582
9am – 9pm, Tel: 6220 2028
Suntec City, Food Republic (Stall 6)
3 Temasek Boulevard, #B1-115 to 120 and #B1-126/127, Singapore 038983
10am-10pm, Tel:  6336 5384
HDB Hub, Gourmet Paradise (Stall 4)
480 Toa Payoh Lorong 6, #B1-01, Singapore 310480
9am-9pm,  Tel: 6397 2880
Changi City Point, Koufu (Stall 5)
5 Changi Business Park Central 1, #02-01/02, Singapore 486038
9.30am-9.30pm
Pine Tree Cafe (Vegetarian)
My favourite, even though at $7, it's not the cheapest. Also, the rice portion isn't as large as the others.
However, Pine Tree Cafe's Lei Cha is hands down the best. It comes in a huge bowl and is thick, smooth, and even manages to be somewhat savoury. All of a sudden, the price makes sense.
If there's a 'Lei Cha for the Soul', this would be it.
Lots of other things on their menu too if you're looking for a vegetarian meal.
Cons: Least Filling, Somewhat Pricey
Pros: Best Lei Cha, Large Lei Cha Portion
Facebook: facebook.com/pinetreecafevegetarian
Skip Queue/Deliver: pinetreecafe.getz.co
Foodpanda:  foodpanda.sg/restaurant/s1pv/pine-tree-cafe-vegetarian
Fortune Centre
190 Middle Road #02-09, Singapore 188979
Tuesdays to Sundays, 10am – 7.30pm
Tel: 9861 5457
Living Wholesome Vegetarian (Thunder Tea Rice)
If you want good, smooth Lei Cha that also comes with a filling portion of thunder tea rice, then you should definitely give Living Wholesome a try.
I'm not a huge fan of their rice though. It's quite interesting because the rice is cooked with pandan leafs, lemongrass and apple cider vinegar. On paper, I'm pretty sure this imparts a lot of other beneficial components to the rice. I couldn't taste the vinegar, so I think it's the lemongrass/pandan leaf combination that I don't really like. I don't hate it, but given the choice, I'd prefer not having the added flavours. Who knows? This might also be the reason why you'd love this over the others.
That said, Living Wholesome is very generous with the other ingredients, which still makes the rice awesome, especially if you chose the $7 'normal' size option. Get the $5 'small' portion if you'd rather not have too much.
The thunder tea itself is pretty good too. You get a reasonable portion that is light and very smooth as well.
Cons: Weird Tasting Rice (for me)
Pros: 2 Size Options, Filling, Lots of Supplementary Ingredients, Smooth Lei Cha
Facebook: facebook.com/LivingWholesomeSG
Bukit Timah Food and Market Centre
51 Upper Bukit Timah Road, #02-188, Singapore 588172
Tuesdays to Sundays, 9am-2pm, 6pm-8pm
Tel: 9666 0694
Traditional Hakka Lui Cha
aka Thunderbolt Tea
Have a look at the picture. The lei cha set looks nice right? Now look at the prices. At $3.50 per bowl and $4 for the brown rice variant, this is probably the cheapest lei cha rice in Singapore. (Stall at Ubi is $4 and $4.50 respectively)
Yet, the portion sizes are decent. You get a large bowl of rice filled veggie goodness. The lei cha itself is smooth and tasty. The small irony here is that even though they claim to use less salt and less oil, (banner, bottom right), theirs is the saltiest and oilest of all the lei chas I've eaten over the years. It's not too salty or oily, just that compared to the rest, there's a definite difference. Cut a little more salt and oil and it'll be great.
Also, note that they're open from 6am to 2pm. Bad news for night owls like me lol.
Cons: A bit salty, early closing time
Pros: Probably the Cheapest Lei Cha in Singapore, Decent Rice Portion, Reasonably Tasty Overall, Opens Early
Facebook: facebook.com/thunderbolt.sg
Website: www.hakka-luicha.com (under construction)
Lui Cha Delivery
They may deliver during rainy days at $1 per pack to locations in the west. Based on some facebook posts, they've gone as far as Clementi and NUH.
Call 98281188 or WhatsApp 93398979 before 10.15am.
Boon Lay Place Food Village
221B Boon lay Place, #01-96, Singapore 642221
Tuesdays to Sundays, 6am – 2pm
Jurong West Market & Food Centre
505 Jurong West, Street 52, #01-12 Singapore 640505
Tuesdays to Sundays, 6am – 2pm
Toa Payoh West Market & Food Centre
127 Lorong 1 Toa Payoh #02-39
Singapore 310127
Tuesdays to Sundays, 7am – 2pm
C&L Cafe, UB.ONE – Thunderbolt Tea
81 Ubi Ave 4
Singapore 408830
Mondays to Fridays, 7am – 2pm