What's The Difference Between Intel Z87 and H87 Chipsets?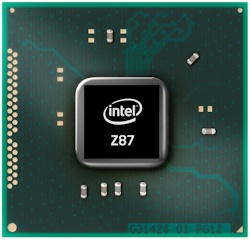 How time flies yea? My PC is already 3 years old. I was thinking of holding back my upgrade for a little while longer, but last week's Blue Screen of Death (aka BSOD) told me that maybe it's time to start the upgrade real soon.
While looking through the motherboard list, I noticed that most of the motherboards were split into 2 main types – those with the Z87 chipset, and those with the H87 chipset.
So, the inevitable question – what's the bloody difference?
Before we go into that though, some quick trivia (You can skip on ahead if you're not interested):
What is a Chipset?
A chipset is like the nervous system in the spine of a computer. It connects allows all the different components on the motherboard to work together as a whole. Imagine a person without a spine – he would be useless right? So while a chipset doesn't get much attention in the world of computing, it's definitely one of the most important.
Intel Chipset Naming Conventions
X (X77, etc) – Enthusiast level chipsets. The best of the best. Also the priciest.
Z / P – Performance level chipsets. Not quite enthusiast, but for people who still want higher than normal performance and overclocking capabilities.
H – Mainstream level chipsets. From moms to high end gamers that don't overclock.
Q / B – Targeted at business users. Q is typically for professional uses with specific needs, i.e. identity protection, while B are more 'budget' friendly, slimmed down versions.
So, Intel Chipsets, Z87 vs H87, What's the Difference?
Z87 Chipset
For Overclockers

For use with unlocked CPUs with the 'K' prefix, like the Core i7-4770K
Triple GPU support (ATI Crossfire / Nvidia SLI via 1 x16, 2 x8 or 1 x8 + 2 x4 )
'Lake Tiny' tech – performance and power optimisations for SSD
More expensive
H87 Chipset
For Mainsteam Users
For use with 'locked' (aka Normal) CPUs without the 'K' prefix, like the Core i7-4770
Duo GPU support (ATI Crossfire / Nvidia SLI via 1 x16 or 2 x8)
No 'Lake Tiny' SSD optimisations
More affordable
So, as far as I can tell, getting a H87 system would be enough for most users. Z87 boards will tend to have more features built into them and have better layouts to make way for high end coolers and such, but for the normal no-frills user without the need for overclocking, multi-GPU setups and feature overloads, even with the best CPU, RAM and GPU, a H87 chipset motherboard should do fine.
Click here to check out some Z87 Motherboards on Amazon US
Click here to check out some H87 Motherboards on Amazon US